The Origin of Monsters
Saturday February 17th, 2018, 8pm
The Origin of Monsters
Throop Church
300 S Los Robles Ave, Pasadena, CA 91101

Élise Roy (flute), Stephanie Aston (soprano), and Ashley Walters (cello) tackle an exciting program of innovative work for instruments and electronics by Eliza Brown and Natacha Diels alongside premieres by Kurt Isaacson and Élise Roy.
Program:
Eliza Brown - Ich bin der Welt abhanden gekommen for soprano, cello, and fixed electronics
Natacha Diels - Banhof for voice and electronics
Élise Roy - new work for flute and live electronics (premiere)
Kurt Isaacson/Élise Roy - The Origin of Monsters for flute, cello, soprano, and electronics (premiere)
Élise Roy's work as a flutist and composer is driven by a passion for innovation and centered around individual expression in the digital age. As a performer-composer, her work is focused on extending and altering existing performance practice through technological avenues that yield unique vocabularies and novel insights into artistic identity.
Amongst her upcoming projects is a commission from the Los Angeles Philharmonic to write a new work for ensemble gnarwhallaby in fall of 2017. She is also looking forward to curating and directing another great season of concerts as assistant director of wasteLAnd music.
A dedicated educator, Élise was guest performance faculty at the SPLICE Institute for the summer of 2016 as well as an instructor of music technology at Chapman University in fall 2016. She is an instructor at the New Mexico School for the Arts in Santa Fe, New Mexico, where she teaches instrumental chamber music.
Élise is a graduate of the Oberlin Conservatory and CalArts where she earned a B.M. and M.F.A. in flute performance, respectively. She studied with Michel Debost, Kathleen Chastain, Rachel Rudich, and also studied improvisation with Vinny Golia.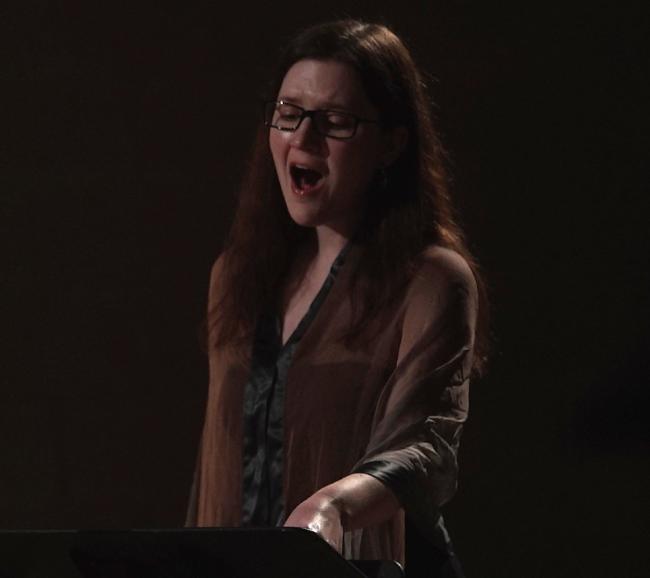 Stephanie Aston is a committed performer of contemporary music. Praised by Steve Schick as "fearless" in her pursuit of repertoire, she has participated in numerous American and world premiers, including Luigi Nono's Guai ai Gelidi Mostri, Michael Gordon's What to Wear, and George Aperghis' Sextuor: L'Origine des espèces. She has appeared on the L.A. Philharmonic Green Umbrella and Chamber Music Series, wasteLAnd, (Re)Sounds at Stanford University, and at REDCAT. Ms. Aston is an original member of the vocal ensemble Kallisti, and a founding member of the ROMP Ensemble and Accordant Commons. She has also performed with Los Angeles Philharmonic, Long Beach Opera, The Industry, Red Fish Blue Fish, the La Jolla Symphony, Gnarwhallaby, Chamber Cartel, 18-squared, and ad-hoc ensembles at Internationales Musikinstitut Darmstadt, Norfolk Contemporary Music Festival, UC San Diego, Stanford University, and in Los Angeles. Stephanie is an affiliated artist with San Diego New Music. Noteworthy performances include Brian Ferneyhough's Etudes Transcendantales, John Zorn's Rituals, Jason Eckardt's Tongues, John Adams' A Flowering Tree (Kumudha), Edgard Varese' Offrandes, Igor Stravinsky's Les Noces, and Alberto Ginastera's Cantata Para America Magica. Ms. Aston holds a D.M.A. from University of California San Diego, an M.F.A. from California Institute of the Arts, and a B.M. from University of North Texas and currently teaches at Moorpark College.
Cellist Ashley Walters has been described as performing "with the kind of brilliance that beckons a major new performer on the new music scene" (Mark Swed, L.A. Times). She has been praised for her "imposing talents" (Sequenza 21) and "impressive" (Pitchfork) and "beautiful playing" (All About Jazz). Walters maintains a uniquely diverse career, performing music that blurs the boundaries between classical, avant-garde, and jazz, breaking new ground in repertoire with microtonality, extended techniques, alternative tunings, and improvisation.
As a solo artist known for tackling virtuosic, demanding works and collaborating with composers, Walters has been the dedicatee of significant additions to the cello repertoire and has appeared on concert series and venues throughout the United States, including Walt Disney Concert Hall, Spectrum (NYC), Center for New Music (San Francisco), Continuum Music Festival (Memphis),Santa Fe Chamber Music Festival, San Diego New Music soundON Festival, Nief-Norf (Knoxville), Tuesdays @ Monk Space (Los Angeles), wild Up's WORK series (Los Angeles), REDCAT (Los Angeles), the wulf (Los Angeles), and wasteLAnd music (Los Angeles).
Walters' debut solo album, Sweet Anxiety, was released on October 20th, 2017 on populist records and has received rave reviews. David Olds of theWholeNote says about the album, "Walters is simply brilliant throughout the disc, and the short printed examples of the scores (other than the Berio) give some idea of the challenges she faced." Brandon Rolle of New Classic LA remarks, "Walters breathes life into each work with her astounding virtuosity." Sweet Anxiety features works by Berio, Nicholas Deyoe, Andrew McIntosh, Wolfgang von Schweinitz, and Wadada Leo Smith.
A frequent collaborator with legendary trumpeter, improviser, and composer Wadada Leo Smith, Walters joined his Golden Quintet in 2016, recording America's National Parks the same year. The album was named Jazz Album of the Year in DownBeat Magazine's 65th Annual Critics Poll and one of Nate Chinen's Best Albums of 2016 in the New York Times. Dan McClenaghan of All About Jazz said about the album, "Ashley Walters' cello paints the rich, beautiful hues that subtly enhance the entire proceeding — the most auspicious addition to a jazz ensemble since Chico Hamilton brought the instrument into his chamber groups in the late 1950s."